Zakat: Bidyanondo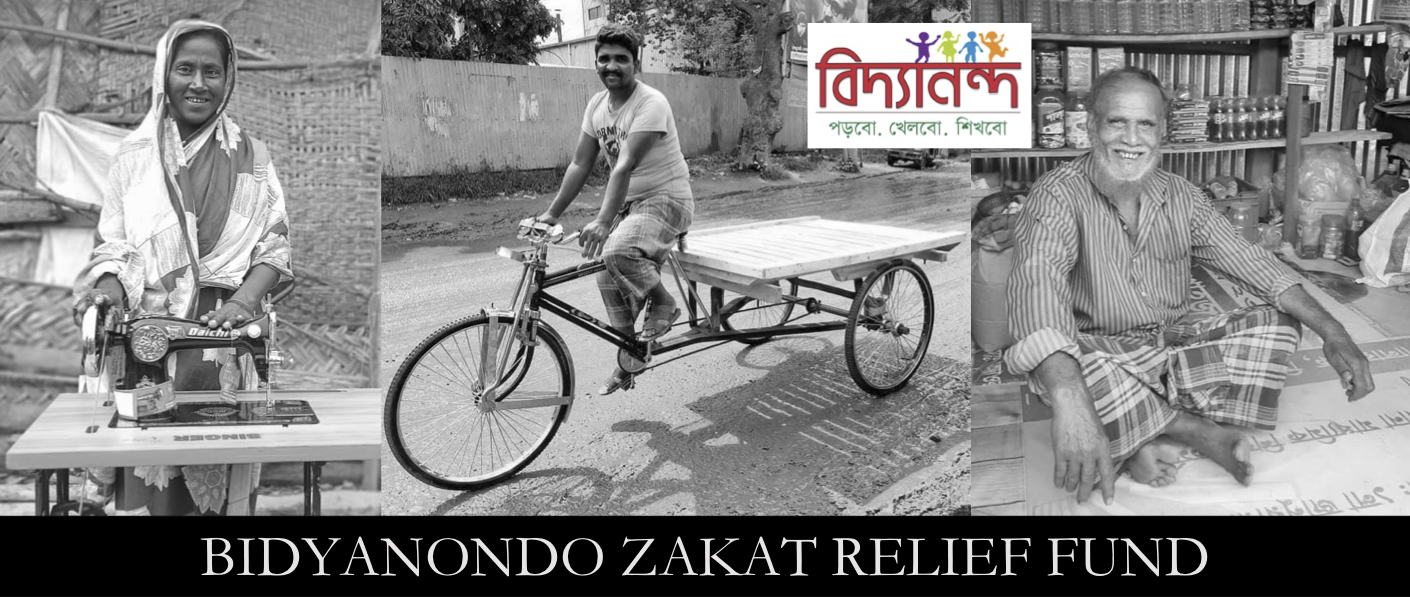 Bidyanondo is an educational voluntary organization in Bangladesh we have vetted for our donors for Zakat donations in addition to their general dry food relief program. Bidyanondo is not gift aid eligible in the UK. 
Who is Bidyanondo?
Bidyanondo Foundation is a non-profit organization registered under the Bangladesh Department of Social Services. Founded by Kishor Kumar Das (a Peru-based Bangladeshi social activist and corporate professional), the organization takes a holistic and innovative approach to helping disadvantaged people make better lives for themselves. Bidyanondo started its journey in 2013 with a handful of student volunteers, and has since grown to eight branches nationwide with hundreds of active volunteers. Their established projects include a primary school, two libraries, several orphanages, and an elderly care home. Bidyanondo has become most well known in Bangladesh for their pioneering One Taka Meal program, which allows the extreme poor to purchase meals at a remarkably low cost. 
Highlights
Bidyanondo's Zakat projects are all directed towards sustainable initiatives, helping the poor and needy gain stable sources of income (for example, a sewing machine or a fishing boat). Donations made to their Zakat funds therefore have the potential to make a long-term impact. Their beneficiaries also include some of the neediest people, as a majority of their Zakat recipients are elderly women who are widowed or disabled. Bidyanondo's Zakat fund offers donors the further advantage of year-round donations, and they have a remarkably wide reach since they operate in all 64 districts of Bangladesh. 
Responses to Vetting Questions
These responses were provided to us by Mr. Jakir Hossain Pavel, the finance secretary and executive committee member, with regards to Bidyanondo's Zakat eligible projects and their plans for using the Zakat funds donated through Nourish Bangladesh. We researched and asked the same set of standard questions to the other NGOs we vetted for Zakat as well.
Questions: For how long will you be accepting Zakat funds? 
Response: We continue accepting Zakat funds round the year.
Questions: When will you stop accepting Zakat donations, or will it be ongoing into next year?
Response: Ongoing into next year.
Questions: Can you share a little bit of history as to how long your organization has been accepting Zakat and what kind of projects you have run with it in the past?
Response: Bidyanondo has been accepting Zakat funds since 2016/2017. Initially, we were running our Muslim Orphanage using the Zakat fund. As the fund began to grow, we are now helping poor Muslim individual or families to make their livelihood by providing domestic animals (Cow, Goat), food van, rickshaw, capital to set up small businesses like tea stalls, small grocery shops, boats with fishing net to help poor Muslim fisherman, sewing machines, various expenses covered for madrasa students (Male/Female), and financial assistance to meet medical expenses. Majority of our Zakat fund beneficiaries are widowed, handicapped, elderly women.
Questions: What will the Zakat funds be used for? Please provide details on specific projects and price breakdowns. (For instance, if we provide £1000, how will this money be used? What will be delivered to the beneficiaries and in what quantity? What will the associated overhead cost be?)
Response: With the Zakat funds provided to us by Nourish Bangladesh donors, we intend to use them for one of the four following projects with an estimated budget for each individual being between 10,000 and 25,000 BDT. The four projects include: (a) buying goats or 1 cow (10,000-30,000 BDT), (b) buying food van (15,000-20,000 BDT), (c) buying 1 sewing machine and accessories (10,000 BDT), and (d) providing capital for small business (10,000-20,000 BDT). We hardly give anyone cash but our team or representative will buy those for the beneficiaries. In some cases this budget may vary due to change of items and price. There is zero overhead cost (e.g. payroll, admin, etc.) for the Zakat fund. Indeed, we do not even charge any transportation cost!
Questions: Geographically speaking, where will the Zakat funds be used?
Response: All 64 districts of Bangladesh.
Questions: How soon will the Zakat funds be used once you receive it from us? For instance, if we deposit £1000 in your bank account on the 2nd of May, 2021, when can we expect it to reach the recipients?
Response: Within 1-2 months
Questions: Who should we contact if we have any questions about the religious aspects of your organization's Zakat projects?
Response: Please get in touch with me, Jakir Hossain, at jakir.hossain@bidyanondo.org with any questions you may have.
Not Gift Aid Eligible NGO