NB Event: Trivia March 2023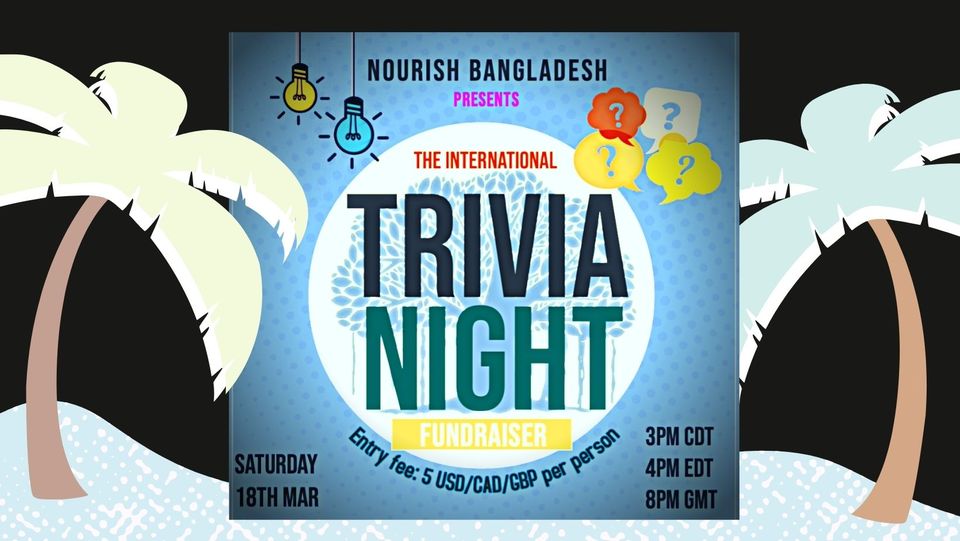 We are delighted to invite you to the first trivia night of 2023. Please join us and don't forget to invite your friends and family along.  
Here are the specifics:
Sign up Link  (deadline: March 17th, 2023)
Date:  March 18th, 2023 (US, UK, Canada)
Time: 3:00 pm CDT/ 4:00 pm EDT (US and Canada)/ 8:00 pm GMT (UK)
For further details, follow our trivia event's page and feel free to share it on your social media.
We look forward to a wonderful night of trivia with you and fighting hunger with your support.
International Event Times:

Saturday, Mar 18, 2023 - 1:00pm PDT
Saturday, Mar 18, 2023 - 3:00pm CDT
Saturday, Mar 18, 2023 - 4:00pm EDT
Saturday, Mar 18, 2023 - 8:00pm GMT
Sunday, Mar 19, 2023 - 7:00am AEDT
Sunday, Mar 19, 2023 - 2:00am +06